Hillje Horn Showcase for Advancing Musicians
Hillje Horn Showcase for Advancing Musicians
Advancing musicians are music students with heightened skills and a desire to improve.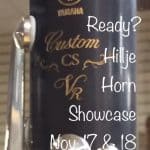 Advancing musicians are music students moving up to the next level – high school / college.
Advancing musicians are music students whose teacher has recommended they are ready for a better instrument.
Advancing musicians are young professionals ready to upgrade their equipment.
Having the right tools makes a difference.
As musicians develop advanced skills, high quality instruments provide a superior tone and sound quality, and often are easier to play well. 
The largest selection of step-up and professional woodwind and brass instruments in San Antonio will be at the Hillje Horn Showcase.
Factory representatives will be on hand to demonstrate and explain features and benefits of every instrument.
Special pricing and financing is available at this two-day event.
Current rental customers of Hillje Music Centers can apply equity toward purchase of a step-up or professional instrument. 
The Hillje Horn Showcase presents the largest selection of Step Up and Professional Level Woodwind and Brass Instruments in San Antonio on hand for you to try before you buy!
November 17 & 18
Hillje Music Centers – Northwoods – 281/1604
210.545.3131
How do I get more information?